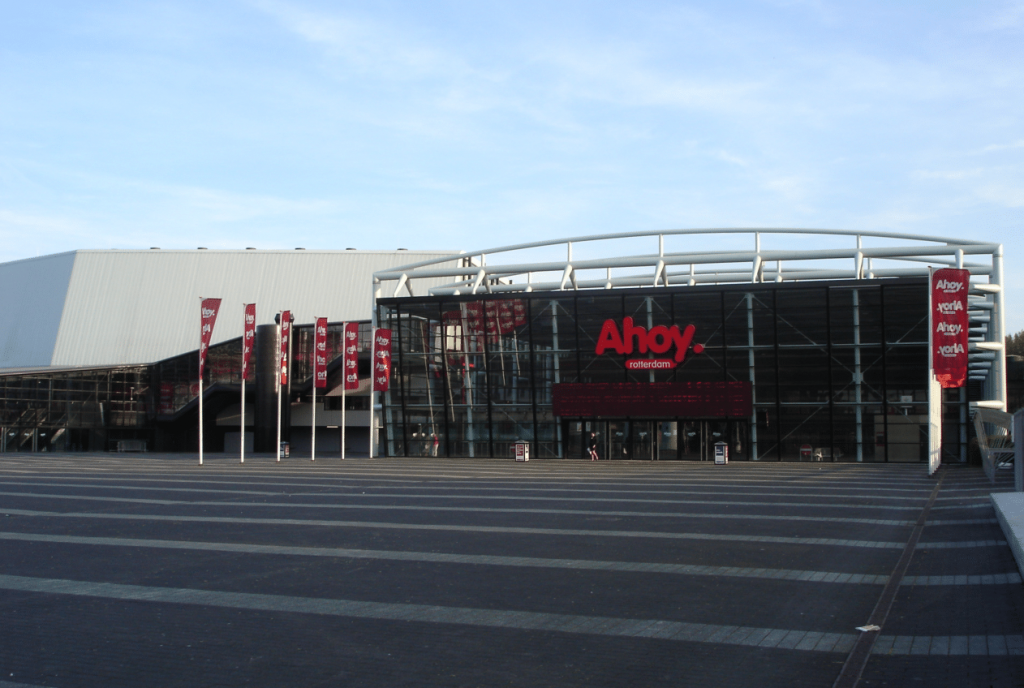 Ahoy Rotterdam is a popular convention centre and exhibition space which is located in central Rotterdam and plays host to a large number of exhibitions, concerts and sporting events. Upon opening in 1970, the first event to be held there was a Femina family exhibition, but the venue is now famous for playing host to some of the world's biggest music stars when they visit Rotterdam. The centre is divided into three main parts, which each cater for different types of event.
Architectural Significance
The Ahoy hall was constructed in its current form in 1970. The striking steel structure has won various national and international design awards for its unique design. It is now considered to be one of Rotterdam's most recognizable sights. Since 1970, the venue has expanded on numerous occasions, in order to become the multifunctional music, sport and entertainment venue that it is today.
The Venue
For those who are seeking to hire the Ahoy venue, it is divided into three main sections; the Arena; the Conference & Meeting Center; and the Exhibition & Event Hall. These areas can be hired out separately or they can be configured to match the specific requirements of your event. The Arena area is able to seat up to 15,000 visitors and is considered to be one of the Netherland's best concert venues. The Conference & Meeting Center includes meeting rooms of various sizes, and an auditorium with seating for 500 delegates. These rooms can be set up with technical facilities including projectors and internet access as requested. The Event halls are the perfect space for exhibitions, expos and temporary shopping events.
Eating at Ahoy
There are a number of different permanent eating establishments at Ahoy Rotterdam, which cater to a range of different tastes, including an ala carte restaurant, a self service buffet and a relaxed café area. Outside exhibitors or concert hosts may also bring in external caterers to offer visitors even more choice. Alcohol is available at most concerts, but visitors are not usually permitted to bring in their own drinks from outside. For service users who are hiring out the Conference & Meeting space, it is also possible to arrange for a catered buffet for delegates.
Getting to Ahoy Rotterdam
From Rotterdam central station, take the subway to the Zuidplein subway stop. There is clear signage from the subway stop to the venue, and the walk should take approximately 5 minutes. For visitors who are coming by car, there is a car park at the venue, which charges €12.50 per car.
Address & Map:
[codepeople-post-map]