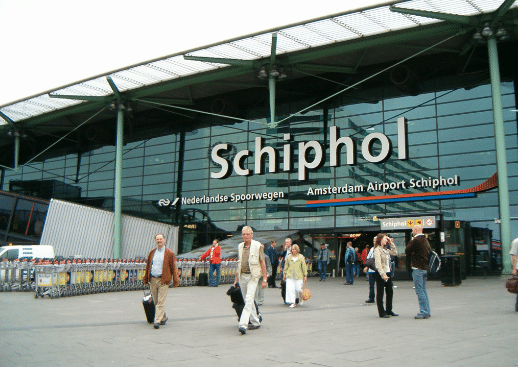 Amsterdam Airport Schiphol is, by far, the busiest and the largest airport in the Netherlands. Schiphol is located just 20 minutes southwest of Amsterdam and is one of the main international airports in the country. More than 40 million tourists and businesses pass through the airport each year. The Dutch airline KLM is based in Schiphol, but a variety of other airlines fly into the airport as well, including Delta Air Lines, Corendon Dutch Airlines, Arkefly, Transavia and Martinair.
Shopping, Dining and Entertainment
Much like other major international airports, Schiphol has a number of shops and restaurants for travelers to take advantage of. The airport's large shopping center, Schiphol Plaza, is located before customs, so both travelers and non-travelers can enjoy some duty-free shopping. Jewelry, fine perfumes, tobacco, souvenirs, liquor and cosmetics can be purchased at one of the many shops in the plaza.
Schiphol is also home to a number of fine restaurants and cafes, including Juggle Juice Bar, Burger King, Café Chocolat, Balcony Café, Touch Down Restaurant, Café Amsterdam, Jungle Sandwich Bar and more. Dakota's Restaurant, Café & Bar offers visitors a unique experience with a romance theme that is reminiscent of the forties and fifties. Meanwhile, DUTH & delicious offers tourists a taste of authentic Dutch dishes, including salads, snacks, soups and bread.
Art lovers will enjoy visiting the Rijksmuseum annex within the airport, which features a collection of contemporary and classic art. Admission is free. Located right next to the museum is the world's first permanent airport library, which provides passengers with access to more than 1,000 different books by Dutch authors. Many of these books are designed to educate readers on the country's culture and history.
Getting To and From Schiphol
Underneath the Schiphol Plaza, travelers can catch a train to Amsterdam Central Station. The train platform can be accessed via the nearby lift or escalator. The train also departs to other locations throughout the country and internationally. Many trains from Paris and Brussels make stops at Schiphol.
For those who would prefer to avoid trains, convenient taxi pickups are available directly outside the airport. Shuttle buses are also available, or travelers can choose to rent a car from one of the vendors inside of the airport itself.
No matter where in the world you are traveling from, Schiphol will likely be the airport that welcomes you to Amsterdam. If you plan on staying in the city for a while, it is worth taking the extra time to browse through the airport's many shops and visit the art exhibit. Those who are on a tight schedule, however, should ensure that they allot themselves plenty of time to make it through customs and security before leaving the airport.
Fun facts
Did you know:
Schiphol is located on the bottom of the former Haarlemmermeer lake?
the first plane landed on Schiphol on the 19th of September in 1926?
there is 3 reasons for choosing which runway to chose? Namely wind direction, wind strength… and sound (to minimize noise for the surrounding area's)?
every runway has its own name and technical code?
Schiphol is the only airport in the world that after 90 years is still located on the same spot?
there's a high speed train that takes you to Paris in three hours?
you can get married on Schiphol?
more than 1 billion people have traveled through Schiphol?
Schiphol in Pictures