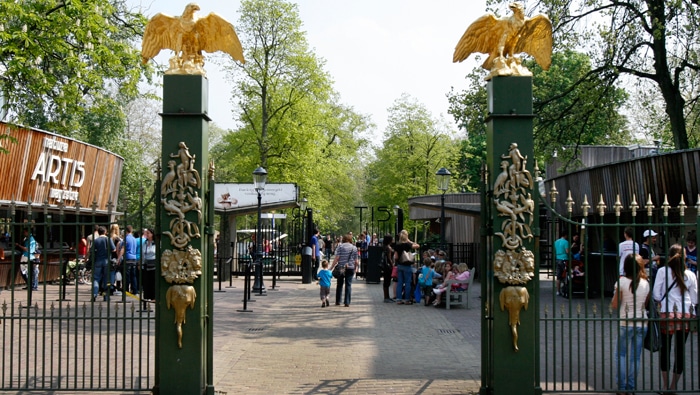 Established in 1838, the Artis Royal Zoo in Amsterdam is the oldest zoo in the Netherlands. Its full name is Natura Artis Magistra, which translates to: "Nature is the teacher of art and science." When the park first began, its only animal residents were monkeys, parrots, a Surinamese wildcat and a few other bird species.
The zoo is now home to more than 900 different species of animals and 200 different types of trees. Many of the trees featured in the zoo are ones that are the brink of becoming extinct, which makes a trip to the park a truly special experience. In addition to the zoo itself, Artis also features an aquarium, a library and a museum.
Aquarium
The park's aquarium allows guests to catch a glimpse of a diverse range of marine animals. Several aquatic tanks can be found in the Main Hall, but guests can also explore the Amazonian rainforest, marvel at tropical coral reefs or explore an authentic Amsterdam canal.
Planetarium
Go beyond the Artis zoo and explore outer space in the park's 628 square meter dome. Fly through space with the help of the many special films shown in the planetarium each day. Tourists should be advised that all shows are in Dutch.
Insectarium and Butterfly Pavilion
The Insectarium was introduced in 2005 and is housed in the park's former food storage facility. Guests can explore more than 750,000 different species of insects.
The Butterfly Pavilion encompasses a thousand square meters and is home to thousands of different butterflies. Both guests and the butterflies can move freely through the pavilion. It truly is a surreal and incredible experience.
Food, Drink and Souvenirs
Small cafes, restaurants and tray bikes can be found throughout the park and offer a wide range of different foods and drinks. The park also allows visitors to enjoy a picnic in the grass with their own snacks or food that they purchase within the zoo. Some restaurants are self-serve, while others offer a sit-down dining experience. Coffee, tea and snacks are sure to be found at any food establishment on site.
Ticket Prices
· Youth (3 – 9 years):€ 15,95
· Normal (10 – 64 years): € 19,50
· Senior (65+ years): € 17,95
· Students: € 3,00
Opening Times
The Artis zoo is open daily throughout the year.
· November 1 – March 31: 9AM to 5PM
· April 1 – October 31: 9AM to 6PM
Be sure to check out the Artis website for more information on opening times during the holidays.
Address & Map:
[codepeople-post-map]