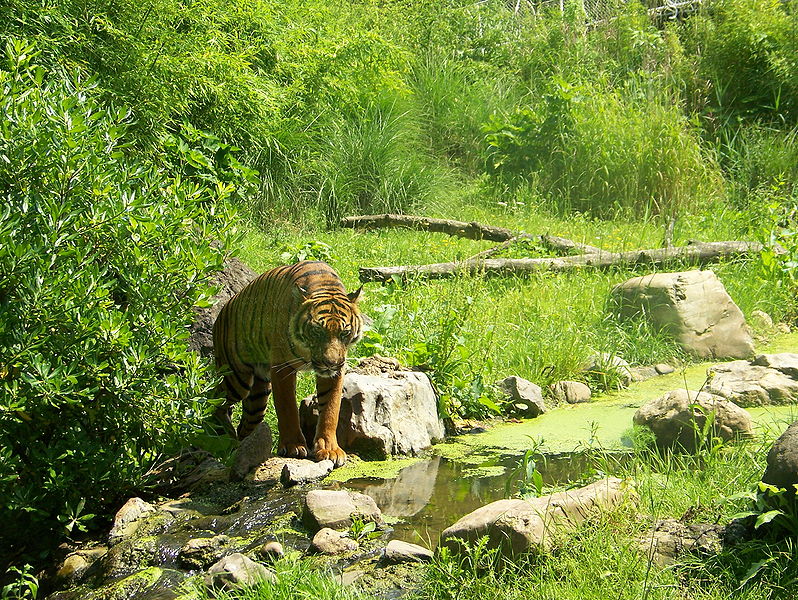 Diergaarde Blijdorp, officially known as Stichting Koninklijke Rotterdamse Diergaarde, is a zoo located in northwestern Rotterdam. Its name translates to "Foundation Royal Zoo of Rotterdam" in English and is one of the oldest zoos in the country. In fact, the zoo celebrated its 150th birthday in 2007.
Brief History of the Zoo
The original Diergaarde Blijdorp park was destroyed during the bombings of Rotterdam in World War II. The new zoo was rebuilt just slightly to the north of its original location and opened its doors on December 7, 1940. The new zoo was designed by Dutch architect Sybold van Ravesteyn. The zoo became a rijksmonument in 2007. Today, more than 1.4 million people visit the zoo.
Animals at Diergaarde Blijdorp
Animals from all over the world can be found at the Rotterdam zoo. Exhibits include:
· Chinese Garden
· The Amur
· Malayan forest edge & Asia House
· Asian swamp
· Mongolian Steppes
· Takin Rock
· Taman Indah
· Tiger Enclosure
· European animal exhibit
· Gorilla exhibit
· Congo
· Savanna
· Crocodile River
· Rivierahal and South American Exhibits
· Prairaie and Arctica of North America
· Oceanium
The Oceanium is a part of the zoo's expansion, which took place in 2001 and was the biggest project for the zoo to date. It features a fantastic tunnel where guests can view the sea animals in their own natural habitat – under the sea!
Kinderzoo
Special events are held just for kids at the zoo, including animal feedings. Animal feedings take place each day at 10:30AM and include the sea lions, King penguins and pelicans.
Visitor Info
There are several restaurants and eateries located throughout the park. The Lotus Greenhouse allows guests to build their own sandwiches with a variety of meats and cheeses. Dessert is also served here. A pancake house and several cafes serve up both hot and cold snacks as well as coffee and tea.
Souvenirs can be purchased at the gift shop in the Oceanium (Sea of Zoovenirs) and also at the "Buffalo Shop" near the prairie dogs. Here, visitors can purchase stuffed animals, magnets, t-shirts, cups, lunch boxes, hats and more. A DVD and book gift set is available for aspiring photographers looking for tips on how to take the best zoo photos.
Special discounts are available to those who purchase their park tickets online. The zoo is open year round, but closes early on select days during the winter.
Parking is available onsite and season passes are also available to tourists that plan on enjoying an extended stay in the Rotterdam area.
Address & Map:
[codepeople-post-map]