Dinner, or the evening meal, is normally the largest and only warm meal of the day in The Netherlands. Although it is more and more common to also eat a warm snack during the day (after all we are the fastfood generation). Normally dinner is the third meal of the day after breakfast and lunch (the Dutch normally have 3 meals a day, with some simple snacks or fruit in between).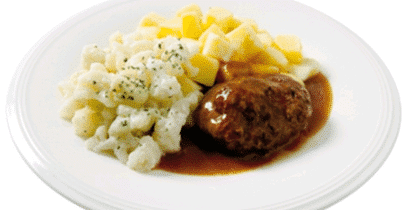 A typical dinner would consist of patatoes (cooked or baked), vegetables and a piece of meat. Also some sauce for vegetables or meat. Besides the typicall dinners the Dutch switch it up during the week by eating a pasta or rice dish. It is also very common to have 1 or 2 days a week a take-away day where they will get french fries, chinese food or maybe shawarma. For example in my family it has been a tradition to go and get Chinese food every sunday.
Although there are some typicall Dutch recipes the Dutch kitchen is internationally (and nationally) not very famous. I for example do not know any Dutch restaurants in my region that specializes specifically in the Dutch kitchen. Most restaurants will have a selection of multiple kitchens and of course there are the specialized restaurants like Italian and Greek restaurants.