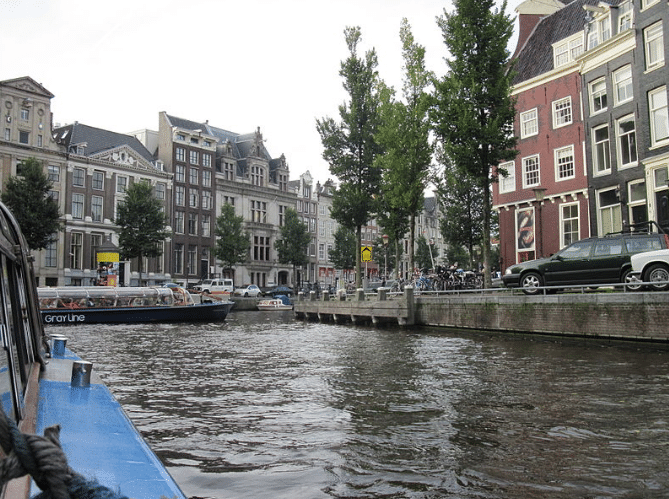 Amsterdam is often referred to as the "Venice of the North." With more than 100km of canals, this historic city features 90 islands and 1,500 bridges. Amsterdam's famous ring canal was first built in the 17th century and is now a part of the UNESCO World Heritage List.
History of Amsterdam's Canals
Amsterdam's intricate canal system did not happen by accident. Through careful city planning, the canals provided aid in three key areas: immigration, defense and trade. The three main canals (Herengracht, Keizersgracht and Prinsengracht) were used primarily for residential purposes. The fourth canal, Singelgracht, sits on the outside of the ring and was used for defense and water management. Canals that interconnect along the radius of the ring were used for the transportation of goods throughout the city.
A Closer Look at the City's Famous Canals
Keizersgracht: Known as the "Emperor's Canal," Keizersgracht was named after the Holy Roman Emperor Maximilian I. This is the widest of the city's three main canals and sits between Herengracht and Prinsengracht. During the cold winter months, water in the canal freezes to a thick sheet of ice and sailing is prohibited. Once the ice is thick enough, the town holds its famous Keizersrace (Emperor's Race) where participants sprint on the naturally formed ice.
Herengracht: The Herengracht canal is the first of the three major canals in the city's center and is also considered the most important. When Herengracht was first built in the 17th century, the town's most prominent residents lived along this canal. The area still holds this same prestige today. Off the canal, visitors will find a children's playground and the West India House. The famous Bartolotti House also sits along the Herengracht. Built in 1617, this magnificent home belonged to Giovanni Bartolotti, a banker and silk merchant who was the wealthiest man in town.
Prinsengracht:The Prince's Canal (Prinsengracht), is the longest of the main canals and was named after the Prince of Orange. Along the canal sits one of the city's oldest cafes: Café Papeneiland, which was built in 1641. The Anne Frank House can also be found along the canal. This is one of the busiest museums in the country and attracts millions of visitors each year. The original home where Anne Frank wrote her famous diary can also be found near Prinsengracht.
In addition to the city's three main canals, there are a number of other notable canals that travelers can explore during their visit. Quaint shops, historical museums and charming cafes can be found all throughout the city's canal system.For first-time Amsterdam visitors, the city's canals are a certainly a must-see.
Want to read more about the canals in the Netherlands? Check out this article by tourismontheedge.com: Top 10 Beautiful Towns in The Netherlands Built on Canals