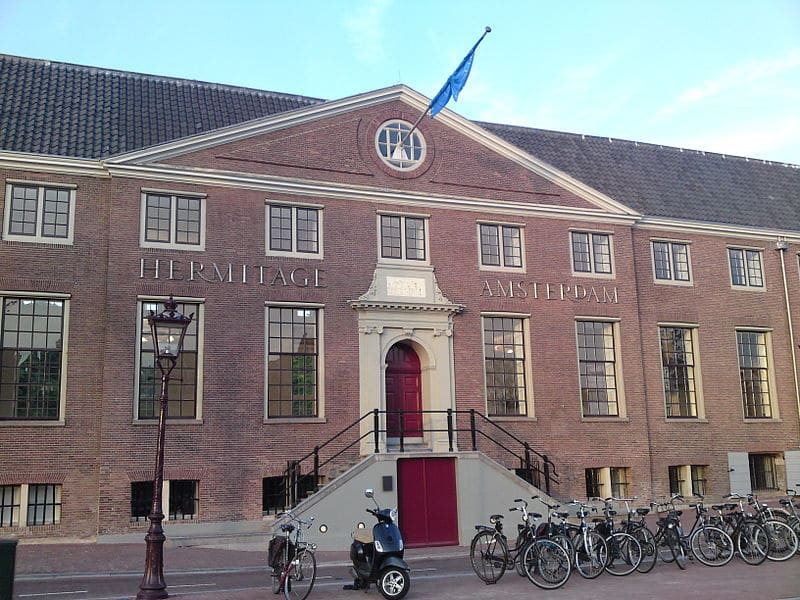 Hermitage Amsterdam is a special branch of the Hermitage Museum found in Saint Petersburg, Russia. Found on the banks of the Amstel River in Amsterdam, the museum features exhibitions on Russian history and culture. Hermitage Amsterdam is housed in the old Amstelhof building built in 1681. The building served as a retirement home from 1682 until the mid-1990s when it was deemed unfit to meet the modern needs of residents.
Smaller exhibitions were held in the adjacent building in 2004 until the main museum building opened its doors in 2009. The building encompasses 138,270 square feet and aims to make the collection available to a much larger audience. In addition to its exhibitions, the building also features offices, several lecture halls and a restaurant.
Exhibitions
The exhibitions at the Hermitage Amsterdam rotate and display a variety of pieces from the original Hermitage collection of Russia. From Greek Gold to The Immortal Alexander the Great, Peter the Great and Vincent Van Gogh, the museum features a wide range of exhibitions that are sure to please any history buff. Exhibitions are organized based on a chosen theme and there are typically two showings each year. All artifacts and pieces are shipped from the Hermitage Museum in Russia to Finland, Germany and then to Amsterdam. Once the exhibitions are through, the pieces must travel safely back to the Russia.
In addition to the many exhibitions in the museum, several workshops and classes are held for children. These activities are focused on educating children through fun and creative exercises designed to make learning fun.
Visitor Information
The Hermitage Amsterdam museum features a café and a shop. The Café Restaurant Neva is open each day from 10AM until 5:30PM and open to non-museum visitors as well.
The 2,800 square foot museum shop can be found at the entrance to the exhibition wing. Items for sale will typically relate to the exhibitions on display. Permanent Russian literature, music and films will also be available for sale throughout the year. The shop is open to everyone – even non-museum visitors. Shop hours are from 10AM until 5:30PM daily.
The Hermitage Amsterdam Museum is open daily from 10AM until 5PM. The facility is closed on December 25th and April 30th. On New Year's Day, the museum remains open from 11AM until 5PM.
Entrance fees:
Children 5 years of age and younger: Free
Children aged 6 to 16: € 5
Adults: € 15
CJP, Stadspas and Groups of 15 or more: € 12
Address & Map:
[codepeople-post-map]