So you're thinking about starting a blog of your own and you'd like to know how to start one? It's actually quite simple and doesn't require any deep technically know-how anymore. And the best about it, is that you're going to make some money while doing it!
Just take a few minutes right now, sit back, read what I have to tell you and follow the simple steps that I've listed below. As you might have noticed I've got quite a big travel blog on the Netherlands at this website and I've learned a lot since I started out. It all started with posting some simple articles/blogs but slowly it grew into a pretty well visited resource on the Netherlands. And once I knew how to monetize it I was able to focus full time on my website and make money with what I love most. In fact I was pretty surprised that I didn't need large amounts of visitors to make some decent amount of income with it, it's just being smart with the visitors that you get.
But how to monetize and grow your blog is not our first step. The most important thing to remember when having a dream is to take action! And your first step is to take a moment to think about what you'd like to write about. I've chosen to focus on the Netherlands, but most travel blogs write about destinations all around the world. And if your passion lies somewhere else, like cooking, cats or fashion, just write about that! It's important that you choose a subject that interests you as it will be much easier and fun to keep writing on it.
Step 1: Domain and hosting
So have you thought about a domain-name yet? Well start thinking about it right now (don't over think)… You can even use your own name in it if you like. For example popular travel blogs are nomadicmatt.com, adventurouskate.com and travelwithbender.com, and a popular cooking blog is pinchofyum.com.
Once you've found a name that you like go over to Bluehost and check if the name you've chosen is available. Bluehost is a great company to start your blog at, it's internationally well known and has a great priced starter package. It's the number one choice of many bloggers.
Just head over to the Bluehost website and click 'Get started now'. You will have the option of three different plans, as you're just starting out I suggest taking the lowest priced Starter plan. After this you can fill in the domain-name you'd like to register. I highly suggest to use the $3,95 – 36 month price as you save quite a bit in the end.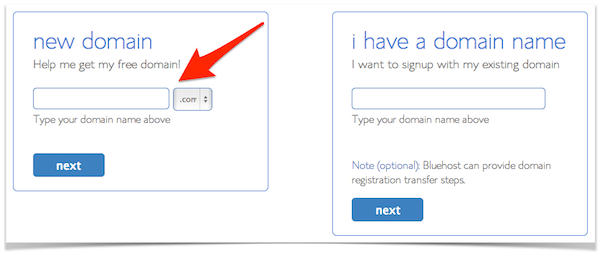 Step 2: Installing WordPress
Once you've completed your purchase and registration with Bluehost you'll need to go through the process of installing WordPress. WordPress is software that is used by most blogs around the world and is also what I use at netherlands-tourism.com. It's extremely easy to use and still has all the advanced options that you might want in the future.
Just login to your Bluehost account and go to the software/services section and click the WordPress Logo. You can now walk through the simple steps of installing WordPress. Afterwards you will be prompted with the link on how to login into the admin panel of WordPress.
Step 3: Play around & Start blogging
In the beginning WordPress might be new to you and you're going to have to try and click around to get to know things. But don't worry there's a lot of documentation and people online that are willing to help. For example at the wordpress.org forums. Don't worry about creating great content and having a slick blog just yet, first learn to know the tool that you are going to use.
Congratulations! You've taken action and started your blog. There's a lot to learn but I'm sure you are going to have fun doing it. Don't see it as work, it's a hobby and should be fun and exciting! And I'm going to continue to help you with any questions that you have.  Be sure to at least sent me the link to your blog at jan@netherlands-tourism.com, as I'd love to check it out!
Step 4: Keep working on it
One of the main reasons why many bloggers don't make it is because they don't consistently keep working on it. Don't expect to make big bucks after a few articles, just keep going! As long as you keep writing interesting articles and grow your blog in a good resource on whatever topic you have chosen, you will make money! You really don't need to be the best writer out there to make a great website. In fact in the beginning my articles weren't that great, I've actually edited quite a lot of old posts to improve them and even completely deleted some of them.
Step 5: Promotion and connecting
Once you've gotten the hang of it and have written some good content you can start sharing your content on social media (like Facebook) and start reaching out to other bloggers in your niche. For example if you're in the travel niche, then contact other bloggers and tell them about your website and maybe they'll put up a link to your blog.