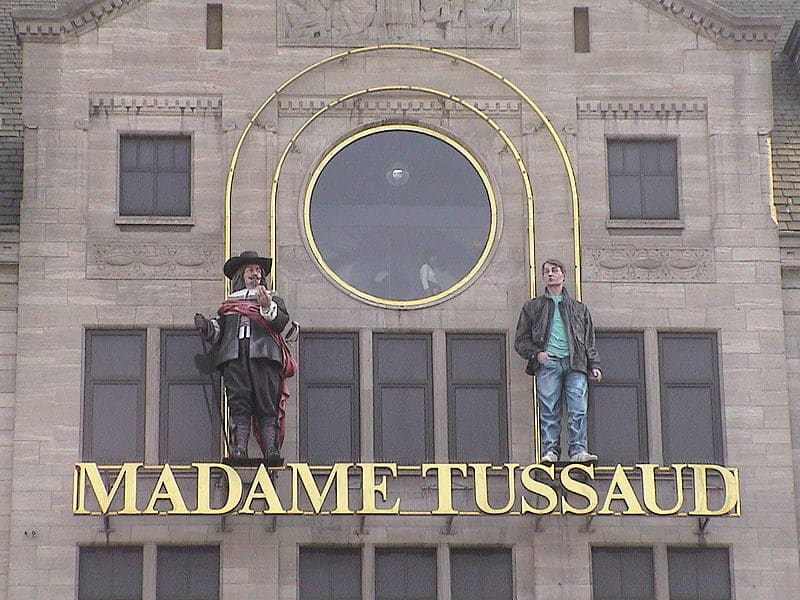 Madame Tussauds is renowned for creating incredible life-like wax figures of some of the world's most prominent figures. The Madame Tussauds museum in Amsterdam is located in the Dam Square and attracts thousands of visitors each year.
Madame Tussaud is more than just a catchy name. She was, in fact, a real person whose birth name was Anna Maria Grosholtz. She lived from 1761 to 1850. After moving the Switzerland, Anna worked as a housekeeper for a physician in Bern. She provided assistance with the creation of wax castings for prominent public figures. Over time, she became a master at waxworks. Anna eventually moved to Paris where she married Francois Tussaud. Having witnessed the horrific violence of the French Revolution, she created hundreds of death masks and sculptures of aristocrats. Legend goes that she would pull interesting heads from piles of hundreds of decapitated bodies to create her works of art.
Her collection of 400 figures was put on display at the first Tussaud's museum in 1835 on Baker Street in London. Much of her original figures have been destroyed due to fire and the bombings of World War II, but the collection has been restored and is now owned by Merlin Entertainment.
Inside Madame Tussauds Amsterdam
The Amsterdam museum is divided into four sections: Sports, Royals, A-List and Culture/Arts. Within each section, tourists will find some of the most well-known figures in history, entertainment and the world of sports. Famous statues include David Beckham, Lady Gaga, Johnny Depp, Queen Beatrix, Vincent van Gogh, Rembrandt and Einstein.
Other figures include:
Sylvie van der Vaart
Angelina Jolie
Madame Tussaud herself
Fun film characters like Fiona from Shrek or E.T.
Mona Lisa
Pablo Picasso
Rafael van der Vaart
Katy Perry
Princess Diana and so much more!
Visitor Information
Tickets are available for purchase online or at the museum. A discount is given to those who purchase their tickets online and visitors who purchase online can also enter the museum through the special VIP entrance.
The museum is open daily from 10AM until 6:30PM but the last entry is at 5:30PM. It is recommended that tourists purchase their tickets online to avoid long lines and arrive as early as possible. Combination tickets are available for Madame Tussauds and the Amsterdam Dungeon, Rijksmuseum, canal cruise or Yellow Bike. Travelers can take advantage of these special offers to make the most out of their trip to Amsterdam.
Address & Map:
[codepeople-post-map]