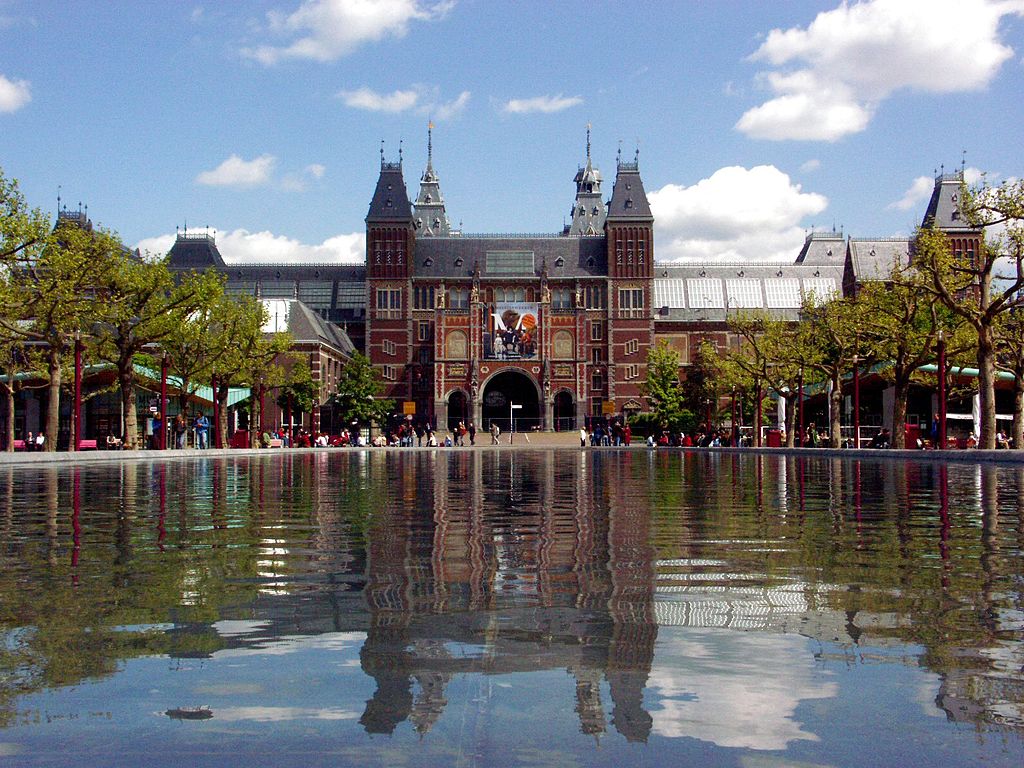 The Rijksmuseum is a Dutch national museum located in the Museum Square in Amsterdam South. The museum features artifacts and exhibits dedicated to history art. Rijksmuseum was founded in 1800 and its original location was in The Hague. In 1808, the museum relocated to Amsterdam and was housed in the Royal Palace before moving to the Trippenhuis. Its current building was designed by Pierre Cuypers and opened its doors in 1885. From 2003 to April 13, 2013, the museum was closed due to renovations.
The Rijksmuseum Collection
The Rijksmuseum has more than 8,000 objects on display out of their collection of more than 1 million objects. These artifacts date back as far as 1200 and include masterpieces by Dutch Golden Age painters Johannes Vermeer, Frans Hals and Rembrandt. The collection includes famous paintings such as The Night Watch (Rembrandt), Portrait of a Young Couple (Frans Hals) and The Milkmaid (Johannes Vermeer).
The Asian Pavilion features a small collection of Asian objects. The stern of the HMS Royal Charles is also on display. The ship was captured during the Raid on the Medway. Visitors can also see the Hartog plate during their visit.
In addition to famous paintings, the museum also displays sculptures, antique furnishings, fashion, ceramics, weapons, photographs and drawings.
Visitor Information
Guests at the museum can take advantage of the onsite café and shop. The café is located in the Atrium and provides beautiful views of the nearby courtyards. Dutch pastries, soups and sandwiches are available for purchase. The café is open daily to both museum and non-museum guests.
The museum shop is also located in the Atrium. Guests will find a variety of products that have been crafted for the museum. The lower level of the shop is dedicated to the sale of books. The Rijksmuseum also features a library, reading room and print room. Guests can make an appointment to take advantage of these facilities during their visit.
The Rijksmuseum is also part of the 2 day itinerary Marcus & Valerie put together on travelyourselftoday.com
The Rijksmuseum opens daily at 9AM and closes at 5PM. Because the museum can be quite busy, it is recommended that you purchase an e-ticket or obtain an admission ticket from your hotel. Those who hold these tickets can avoid having to wait in line at the ticket counter. Children under the age of 18 can enter the museum for free, but adult admission is 15 Euros. For updated information on admission prices and opening times, visit the Rijkmuseum website.
Address & Map:
[codepeople-post-map]