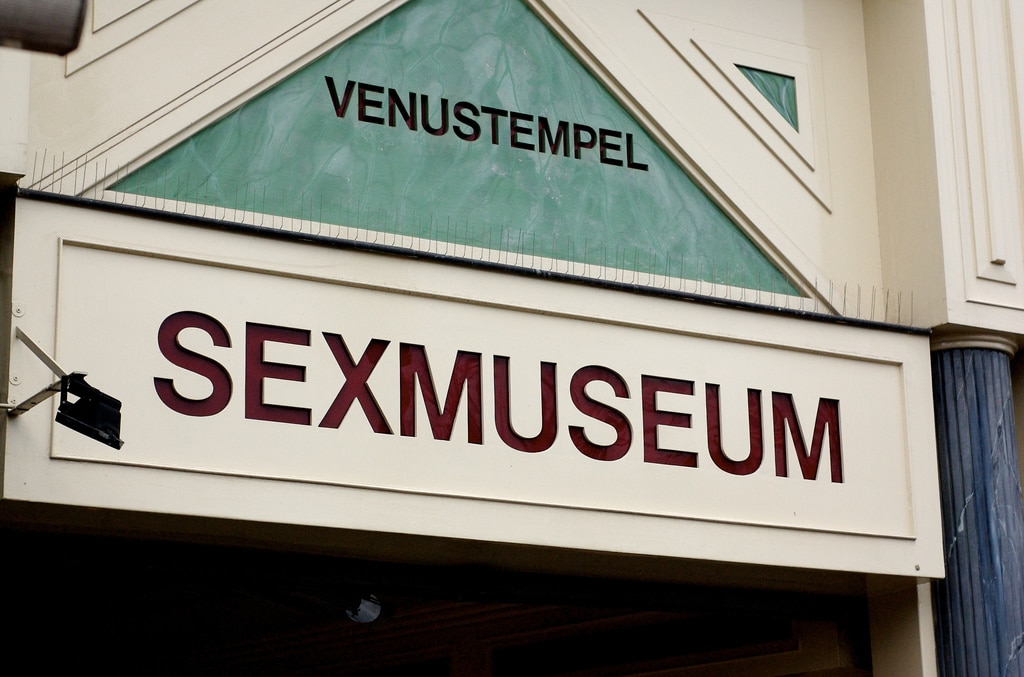 Sexmuseum Amsterdam Venustempel, also known as the Temple of Venus, is the world's oldest and first sex museum located right in the center of Amsterdam. The museum features an extensive collection of pictures, recordings, photos, paintings and artifacts which allow visitors to explore the evolution of human sexuality throughout the ages.
Venustempel first opened its doors in 1985 with just a small display of erotic objects from the 19th century. Much to the surprise of the museum's owners, the public was incredibly enthusiastic about the exhibit and its collection was expanded. The museum now sees more than 500,000 visitors each year.
Sex Through the Ages
Venustempel is more than just a display of erotic images and sculptures. Visitors learn about the history of sex and how it has evolved over the centuries. Visitors may be surprised to learn just how open and free historical civilizations were. From Cleopatra's regiment of men to the Romans' insatiable appetite for sex, visitors will learn how sex was viewed throughout history, and this includes the repressive Middle Ages.
All artifacts, artwork and displays were personally gathered by the museum owners and will remain on permanent display.
A Tour Through the Museum
The museum features three floors with a number of galleries and halls named after historical figures in eroticism. A large statue of Venus greets you as you walk through the museum doors and sets the stage for the entire feel and look of Venustempel.
Ground Floor: Casanova Gallery, Marquis de Sade Hall and Fanny Hill Street. Most people are familiar with Casanova. This famous writer was notorious for seducing women. Fanny Hill was the famous protagonist and London prostitute in the novel "Memoirs of a Woman of Pleasure." Marquis de Sade was a famous writer of pornographic books and once jailed for his violent erotic escapades in the 1700s.
First Floor: Valentino Gallery, which is dedicated to Rudolph Valentino, the world's first male sex symbol. Catharina the Great Hall, the Venus Gallery, Oscar Wilde Hall and Marquise de Pompadour Hall can also be found on the first floor.
Second Floor: Vargas Hall and a new hall that is currently undergoing renovations.
Visitor Information
Sexmuseum Amsterdam Venustempel is open daily from 9:30AM until 11:30PM. Due to the erotic nature of the museum, only visitors aged 16 and older will be permitted inside. Admission fee is 4 Euros. The museum is conveniently located near the Centraal Station. Expect to spend at least one hour exploring the museum.
Address & Map:
[codepeople-post-map]