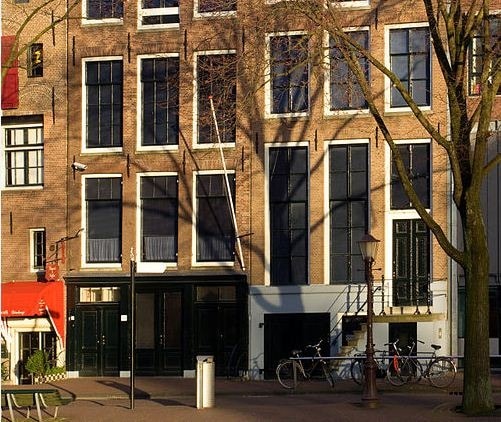 Anne Frank is one of history's most well-known figures. For more than two years, she and her family hid in a special wing of her father's workplace, located at Prinsengracht 263 in Amsterdam. Another family, the Van Pels, along with Fritz Pfeffer also hid here as well. The doorway that led to the annex was hidden by a movable bookcase.
Those who worked in the building supplied Anne and the others with food and supplies. They also shared news from the outside world. The annex, or Achterhuis in Dutch, was hidden from view as it was completely surrounded by houses on all four sides. This made the annex an ideal hiding spot from the German Nazis. The Frank family, the Van Pels and Fritz Pfeffer hid here for two years.
On August 4, 1944, the hiding place was discovered and all inhabitants were deported to concentration camps. The only one who survived was Otto Frank, Anne's father. Upon his return to Amsterdam, Otto was given Anne's papers and diaries. Otto compiled her work together to create what we now know as The Diary of Anne Frank.
The Anne Frank Museum
The Anne Frank House is located in Amsterdam along the Prinsengracht canal. Today, it serves as a museum to educate visitors about Anne's story. The original house and the home next door were both purchased by the museum, which was originally built by Dirk van Delft in the 1600s.
Shortly after Anne Frank's diary was published, the company that had previously occupied the building moved to a new location and the entire block was sold to one estate agent in 1955. The building was order to be demolished and a factory was to be built in its place. However, a campaign to save the house began in 1955. The campaign also called for the house to become a protected monument. After staging a strong protest on demolition day, the house was saved and is now protected.
Today, the building stands as a museum which the public can visit. The front offices have been reconstructed to look exactly as they did in the 1940s. The museum is one of the biggest tourist attractions in the city of Amsterdam, with more than one million people visiting each year.
The museum is open daily, but is often crowded. It is not uncommon for ticket lines to extend around the block. Tourists who plan on visiting the Anne Frank House should consider purchasing tickets online, or visiting the museum in the late afternoon/early evening when the museum quiets down.
Official website: http://www.annefrank.org
Opening times (2013-2014):
1 November – 31 March: Every day from 9am to 7pm (Saturdays untill 9pm)
1 April tot en met 31 October  Every day from 9am till 9pm (Saturdays till 10pm)
Address: Prinsengracht 263, 1016 GV Amsterdam
Address & Map:
[codepeople-post-map]