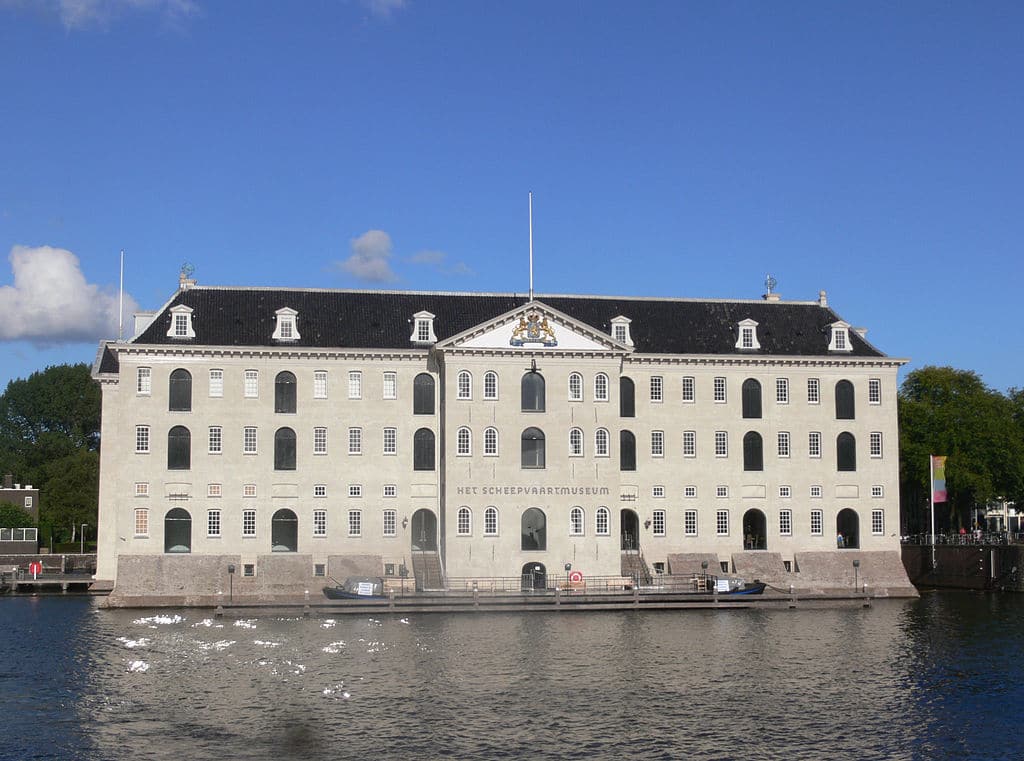 The National Maritime Museum (in Dutch: Het Scheepvaartmusum) is a museum in Amsterdam designed by Daniël Stalpaert and constructed in 1656. It features a vast collection of model ships and dedicates a great number of rooms to the most important elements of Dutch maritime history through 500 years. The Dutch colonized the Indonesian Archipelago and used vast wooden ships called East Indiamen for sailing between the Netherlands and the East Indies in the 17th century.
Ships, paintings, maps and sea
The central courtyard of the museum gives access to the three wings of the building, each with its own theme. East includes displays of maritime objects, paintings, globes and model yachts. Each model boat is a work of art, an example of pleasure craft through the ages, from the 17th century to the present day. The North offers a special experience – visitors can join a virtual sea voyage and learn about Amsterdam's port. They can even board the Amsterdam, a replica of one of the East Indiamen ships, moored outside the National Maritime Museum. The West side has numerous interactive exhibitions for children, such as the Tale of the Whale. This animal was described as a sea monster during history, so they are trying to overcome this theory and to show the necessity to preserve it from extinction.
There is another interesting room worth visiting – the Artillery Courtyard. The navy used to store its artillery in the arsenal's courtyard, covered by a modern glass roof inspired by navigational lines and old maps. There is a lot to do and see so take your time and enjoy. The National Maritime Museum also includes a library, a restaurant and a shop where you can buy interesting things and souvenirs.
Visitor information
The museum is open seven days a week from 9 am to 5 pm except on King's Day, Christmas and New Year's Day when is closed. The library is open from Monday to Friday from 9.30 am to 5 pm. The ticket price is 15 Euros for adults and 7, 50 Euros for children (aged 5 – 17), students, holders of Stadspas and CJP (Culture Youth Pass). Children under 5 can entry for free. The facility includes a few spaces free of charge such as the Central Square, the Open Courtyard, the museum shop Het Pakhuys, the Restaurant Stalpaert and the library. It is situated on a 15 minute walk from Amsterdam Central Station. Bus 22 and 48 will take you there too.
Address & Map:
[codepeople-post-map]