Zaanse Schans is a beautiful town that was pieced together to form what is known as an outdoor museum. Altogether, there are 35 houses, windmills, barns and museums that date back to the 18th and 19th century style. This is an amazing place to visit and boasts exceptional landscapes with beautiful weather. In the town, there are 4 museums that operate and display the true history of the Netherlands.
Bakery Museum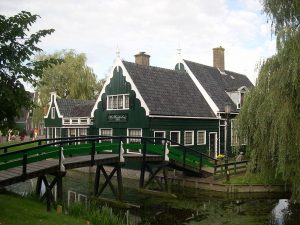 Dating back to 1658, this museum is filled with amazing aromas and even more delicious food. A marble floor is laid down and provides a beautiful look back into the past of baking. Inside, you can view old cookware that was used throughout the centuries and taste many of the local treats.
The museum is open every day from 10 am – 5pm. Admission is free, while foods in the bakery are not.
Zaans Museum and the Verkade Pavilion
The Zaans Museum and the Verkade Pavilion is a treat for kids and adults alike. Step back in time to view clothing, paintings and equipment from the past. All of these items were once part of the food industry and guests can enjoy biscuits and treats during their visit.
This is the same place where the famous Verkade girls once worked. The museum is the perfect place for lectures, birthday parties and guided tours. Visiting hours are 10 am – 5 pm every day with the exception of holidays. Admission is:
9 euros for adults
7 euros for children ages 4 – 7
The Museum of the Dutch Clock
The Museum of the Dutch Clock allows guests to view beautiful clocks that are teeming with Dutch history. These tower clocks range as far back as the 16th century with newer models seen as well. There are even famous pendulum clocks from Christiann Huygens are seen. Housed in a 17th century building from Assendelft, visitors can see this collection from:
April – October: Monday – Sunday from 11 am – 5 pm
November – March: Sunday from 11 am – 5 pm
Adults are required to pay 10 euros, children up to the age of 12 pay 5 euros and those between the ages of 12 – 17 pay 7 euros to enter.
Albert Heijn Museum Shop
The Albert Heijn Museum Shop brings to life a typical 19th century grocery store that was home to the famous Albert Heijn. The shop is constructed from two different buildings and is a perfect example of how timed grocery stores once looked.
Admission is free and visiting hours are as follows:
Non-winter Months: Tuesday – Sunday from 10:30 am – 1 pm and 1:30 pm – 4 pm
Winter Months: Saturday – Sunday from 12 pm – 4 pm
Address & Map:
[codepeople-post-map]