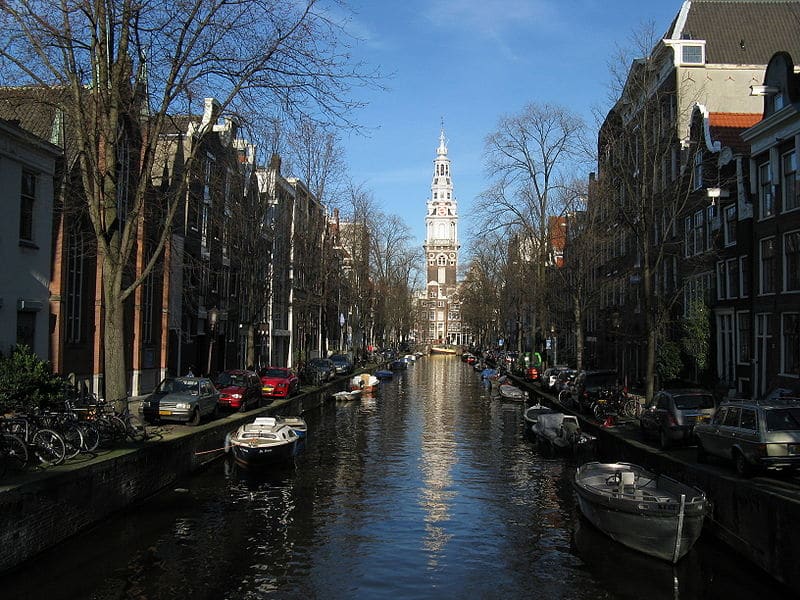 Zuiderkerk, Southern Church, is a Protestant church located in the Nieuwmarkt region of Amsterdam. The church was not only a major part of Rembrandt's life, but was also featured in a Claude Monet painting. It was the very first church built in the city for Protestant services.
Zuiderkerk History
The Zuiderkerk was built in the early 1600s and is situated on the Southern Graveyard, or Zuiderkerkhof, square. The church features a very distinct tower, which was not built until 1614. The tower is home to a carillon of bells built by the Hemony brothers. The bells themselves were not installed until 1656. Zuiderkerk's bells are still rung every Thursday between 12PM and 1PM.
The church features an Amsterdam Renaissance design, which was created by Hendrick de Keyser. Coincidently, Keyser is also buried in the church and a memorial stone sits atop his tomb.
The famous French painter Claude Monet painted the church during his visit to Amsterdam. The work now hangs in the Philadelphia Museum of Art. There are rumors that Rembrandt painted his famous Night Watch painting from the church because his own studio was too small. However, there is no evidence to confirm this and historians believe it is likely untrue.
Three of Rembrandt's children are buried at the church as well as Ferdinand Bol, one of Rembrandt's most notable pupils.
Zuiderkerk served as a church until 1929. The church was used as a temporary morgue during the final winter of World War II, known as the "hunger winter." At the time, people were dying quicker than they could be buried. By 1970, Zuiderkerk had fallen into a state of ruin and was near the point of collapse. In the late 1970s, renovations on the building began.
Zuiderkerk has served as a municipal information center since 1988. Both temporary and permanent exhibitions are featured, including a scale model of what Amsterdam will look like in 2020. A "Wall of Fame" can also be found inside that pays homage to Dutch celebrities who have a positive effect on society.
Visiting the Church
Because Zuiderkerk serves as a municipal information center, it is open to the public. Although the tower has its own a separate entrance, it is also open to the public.
Zuiderkerk can also be rented out for dinners, weddings, meetings and special receptions. Guided tours are available every half hour, which may include a tour of the famous church tower. Tours of the tower are only available between April and September and run between 12PM and 3:30PM.
Address & Map:
[codepeople-post-map]