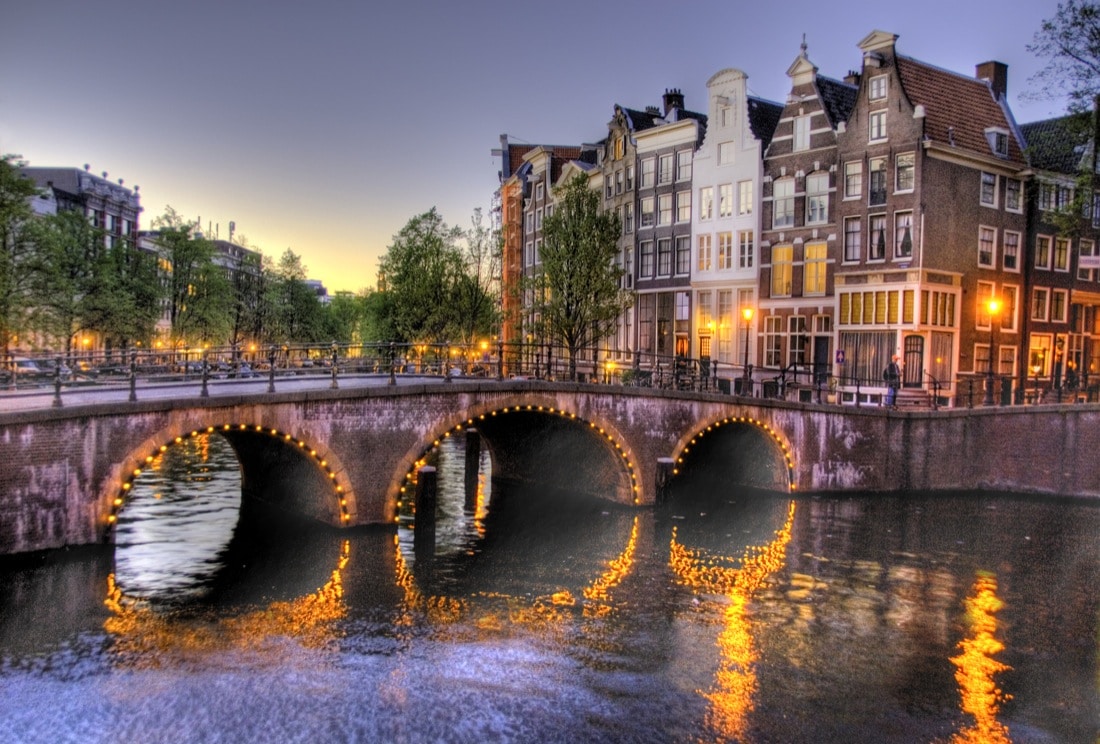 Introduction
Amsterdam, capital city of the Netherlands and located in the province North Holland, is one of the most popular tourist destinations in the world and considered among the alpha world cities. With tourists attractions like the Anne Frank house, the van Gogh Museum and the wonderful canals and architecture you are definitely in for a holiday to remember.
Be sure to check out these posts as well:
Is it safe?
Is Amsterdam safe for tourists to visit? Are there dangers you should be aware of? Amsterdam is one of the most popular and well known cities in the world and attracts millions of visitors each year. With these amounts of tourists visiting the city it is bound to also attract scam artists, pickpockets and other criminals that try make some money. This is very unfortunate but almost impossible to complete eradicate. But despite the fact that there is some criminal activity, Amsterdam ranks very high on Mersers list of safest world cities to visit, it is on spot 22 (of 215). To give you a comparison… London and Paris don't even make it into the top 50!
Most crimes that tourists experience are nonviolent crimes like pickpocketing. These can be prevented by being cautious. For example: don't put your wallet in your jackets side pocket, but use the hidden inner pocket instead, which of course is harder to reach for pickpockets.
A complete guide
I also have a complete guide to Amsterdam in pdf form (ebook). The ebook is in pdf format and contains over 200 pages of information on Amsterdam and the Netherlands. You can see it in the sidebar on the right.
I Amsterdam City Card
If you're looking to save some money while exploring Amsterdam then you might consider the I Amsterdam City Card. With the I Amsterdam City Card you get: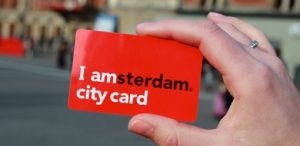 Free admission to 38 museums
Use of public transport system (GVB trams, buses and underground)
One Amsterdam canal cruise
25% discount on admission to Amsterdam's most popular attractions
25% discount at participating restaurants and shops
City Map
The card can be bought on arrival at several locations or you can buy it online beforehand.
History of Amsterdam
Amsterdam is one of the great cities of the world, but it had very humble origins. In the 1200's  there  were fishermen living and working on the banks of the Amstel River. At some point they decided that they needed a bridge so that they could work from both sides of the river. They built a bridge, but also fitted doors underneath it to prevent the village from being flooded.  This helped to create a harbor from which trade could be conducted.
For individuals not in the know, or those who happen to be perhaps more close minded than others, Amsterdam is simply a city which is frequented by party goers, and rowdy adolescents, looking to take advantage of the city's different approaches to the adult trades, as well as their laws on Marijuana. The truth about this stunning city however, is that it has so much more to offer than that, and it is steeped in rich historical tradition and times of hardship and struggle. If you're looking to add a bit of culture to your lives, then Amsterdam could be the city you've been waiting for.
Humble roots and beginnings – Way back many centuries ago, a group of adventurers are believed to have floated down the river Amstel, in a number of make shift boats, and settled in land surrounding the river. Once settled, these travelers are believed to have concocted a series of dikes and dams in the area (Still wondering where Amsterdam get's name from?). Once there, the business savvy settlers began to receive toll money from passing fish and beer trade boats, in exchange for letting them pass through the dikes in the area. Sea Trade was rife thanks to the Baltic Sea, and the savvy settlers recognized this, and formed a very lucrative business as a result. The town became a merchant town in 1275 and by 1300, the town actually received its first charter. This meant that traders from the area were granted free passing. This was actually one of the most crucial developments for the area, as traders in the area could work very cheaply. As a result, the fish and beer trades in particular, began to be where the money was at. Herring in particular, was the very popular, due to the curing techniques that the locals developed. This technique basically required the fish's intestines and innards to be removed once caught, this meant the fish stayed fresh for longer.
Development into what was known as the Golden age – At the end of the 15th century, Amsterdam had solidified itself as one of the most economically developed cities in the entire world. After the Spanish defeated Antwerp, a large number of extremely rich Jews actually fled to Amsterdam. With their many riches, a number of trips to India were funded. These trips led to the "Golden Age" of Amsterdam, as the Dutch-East India company was founded. This company was very lucrative, and Amsterdam just so happened to have a majority share in this very organization. By the 17th Century, the city was extremely rich and prosperous as a result, and economic expansion began to take place. As the city was doing so well, developers had the added luxury of more money to play around with. Because of this, they began to take beauty as well as functionality into consideration. This led to the gorgeous Canals that are still there to this day, as well as the stunning looking and extremely popular "Jordan district". Art was also big business in the area, and Amsterdam soon became a city of culture for the wealthy.
Ever expanding business ventures – By the end of the 17th century, the money began to run out for Amsterdam, and they needed other business ventures. Thanks to a newly acquired port, Amsterdam began seeking new business ventures, and soon began raking in the money, by playing important parts in the spice trades thanks to their Indian connections, as well as the diamond trades. Amsterdam once again became one of the most prosperous cities in the entire world.
20th century to the present day – By the time World War 1 came about, Amsterdam once again found itself struggling financially from that period onwards. In fact, nearly twenty years later, 1934 was known as the "crisis period" in Amsterdam's history. Unemployment was rife, and riots began to take place. The streets had to be paved, to prevent people from throwing rocks and stones at the police. During the period of World War 2, people began to starve, and the persecution of the Jews took place, forcing the Jewish inhabitants to flee the city. As a way of making money, underworld sex and drug trades began to become more apparent, which ironically, is what currently provides Amsterdam's main source of income, though much less seedy and disturbing. These trades, as well as the cities gorgeous landscapes and rich history, are what continue to make Amsterdam one of the most popular cities in the entire world.
Transportation in Amsterdam
Amsterdam has a transportation network to rival that of any other city. Most journeys and holidays in Holland will begin with some time in Amsterdam.
Getting To Amsterdam
Many people who are arriving in Amsterdam, or many other places in the Netherlands will find that their journey takes them to Schiphol Airport also referred to as Amsterdam Airport. It is, by far, the biggest airport in Holland and one of the biggest in Europe.  When you arrive at Schiphol it can be very confusing, but there are plenty of signs to the trains and ticket office and you will soon find your way there.
From Schiphol to the Amsterdam
There is a direct rail transfer from Schiphol to the Amsterdam Central Station, which of course is located in the the center of Amsterdam. It is a convenient and also the fastest way to get to the city center and it will only set you back about 4 euro's.  Besides taking the train you can also use the Amsterdam Airport Shuttles that are operated by Connexxion. Departing every 10 minutes these shuttles these shuttles connect the airport to almost every Hotel in the city. Prices are about 17 euro for a one way and 27 for a return ticket.  Check out the website: www.schipholhotelshuttle.nl for more information. The most expensive transport option is using one of the cabs that you'll find everywhere when exiting the airport.
If you are arriving in Amsterdam by train you will almost certainly arrive at Amsterdam Centraal Station. There are Thalys services from Paris, Brussels and Antwerp. ICE trains from Dusseldorf, Cologne and Frankfurt. Intercity Trains from Berlin. Euronight trains from, Copenhagen, Warsaw, Minsk and Moscow. Eurostar trains from London via Brussels.
Most international buses arrive at the Amstel Station and are affiliated to Eurolines. If you are arriving by car to Amsterdam, there are many different routes. Arriving from Germany you take the A1, from Arnhem, the A2 and the A12 going north, from Belgium, the A2, from The Hague, the A4. From all of these routes you will end up on the A10 ring road where roads into different parts of the city are well signposted.
Getting Around Amsterdam
If you are going to be using public transport in Amsterdam You will need an ov-chipcaart. This is a credit card sized card that can be topped up with euros and then used on all public transport. Most people who take public transport in Amsterdam use the trams or the metro. These, together with the buses are run by the GVB. When using the trams, buses, or metro, you must place your ov-chipcaart onto a reader when boarding and leaving the transport. This allows the reader to deduct the right amount from your card.  You can also check out the I Amsterdam Card which besides free access to several museums and other discounts will give you free access to the public transportation system.
You can get a free transport map from the GVB offices at Centraal Station, or on board the trams. There are four metro lines in Amsterdam which will be able to connect you with all of the major tourist spots and landmarks in the city. Here's a map of the metro system: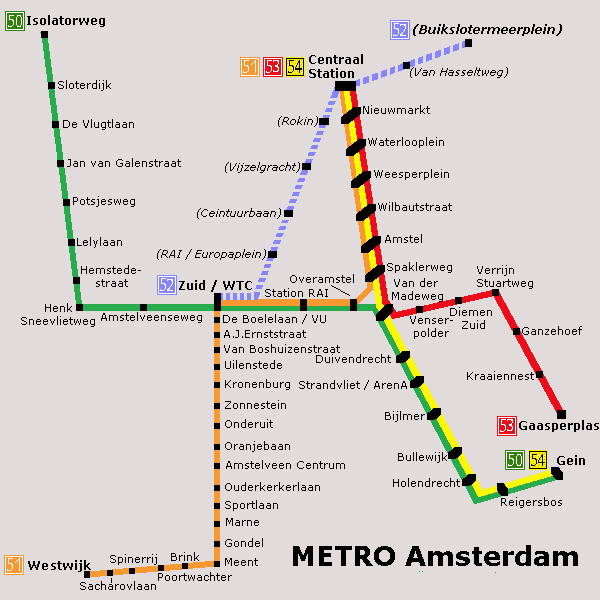 There are more bikes in Amsterdam then there are inhabitants, they are, without doubt the best way to travel around the center of the city and there are many places that you can hire one cheaply. The flat landscape of the city makes it incredibly safe and easy to bike around town.Cycling is the transportation of choice with locals in Amsterdam and exploring the city by bike is something that every tourist should experience.
Bike Rental Tips
Always lock your bike – Amsterdam is a safe city, but bike theft is a major problem. Always be sure to lock your bike in authorized locations only.
Follow vendor instructions – When you rent a bike from a vendor in town, be sure to follow their instructions.
Know before you go – Learn as much as you can about cycling in the city before you rent a bike. This will give you an idea of what to expect and how to navigate your way through the city.
Follow the signs – Always ride in the bicycle lane, which is on the right-hand side of the road. This lane will be marked by white lines and include bicycle symbols. Biking is not allowed on footpaths, pavements, motorways and on shopping streets.
These bike rentals can go as low as 8 euro's per day, here are some bike rental companies:
Mac Bike
MacBike is one of the biggest and most respected bike rental companies in the city. They offer three convenient locations, including Visserplein, Central Station and Leidseplein. The company also offers a number of guided tours and day trips. Those new to the city can grab a copy of How to Cycle Safely for cycling tips in Amsterdam.
Address:
Nieuwe Uilenburgerstraat 114
1011 LX   Amsterdam
Phone: +31 20 6200985
Website: http://www.macbike.nl
StarBikes Rentals
StarBikes is located right behind Amsterdam Central Station, which makes them a convenient choice for those taking a train into the city. They offer traditional black bikes.
Address:
De Ruyterkade 127
1011 AC   Amsterdam
Phone: +31 20 6203215
Website: http://www.starbikesrental.com
Mike's bike rental (Also offers tours)
Kerkstraat 134
1017 GP   Amsterdam
Phone: +31 20 6227970
Website: http://www.mikesbiketoursamsterdam.com/
Bike City (located in the Jordaan)
Bloemgracht 68 – 70
1015 TL   Amsterdam
Phone: +31 20 6263721
Website: http://www.bikecity.nl
There are plenty of taxis in Amsterdam, though they are sometimes very expensive. You can find one at the ranks at train stations or book one by telephone, Taxi Zeeburg, +31 20 663 7563, Taxi Max Cab, +31 6 53652859.
Amsterdam Tourism
There's so much things to do and see in Amsterdam that it might be difficult to make a choice in what attractions and activities are the best to visit. It certainly depends on the length of your trip and your interests, but tourist wise I've created a 'must see and do' – list as to give you some ideas you might want to include in your itinerary:
City walk – be sure to take at least one of the city walks I've laid out or go search for some other great walks that are set out in the city. This way you'll be sure to cover a large interesting area of the city! The city is an attraction and sight on it's own, so take your time to walk around and be impressed by the beautiful canals, architecture and experience the unique vibe of the city… and best of all, it's free. There are also guided tours available which you can inform about with the local tourist offices (VVV).
Rent a bike – The Dutch are known for using bikes often as a means of transportation and as such we've got a great infrastructure that allows for safe and easy cycling. It's ideal to get around in the city and cover more ground then by foot.
Take a canal tour – Be sure to get a view on Amsterdam from a canal boat. The canal rings are key in what makes Amsterdam unique and a tour on one of them is relaxing, fun and a great way to take a breath from all the walking around.
Visit a few museums – Did you know that Amsterdam has more museums per square metre than any other city in the world? The most visited and probably the pride of cultural Amsterdam is the Rijksmuseum, a must visit museum! Other popular museums are the Van Gogh Museum, the Stedelijk Museum and the Anne Frank House. Be sure to visit the Museum District.
Stroll through the Vondelpark – The Vondelpark is the most famous and most visited park of the Netherlands and is located a bit outside the canal rings of Amsterdam (easily to get to by foot).
Experience the multicultural society – Be sure to visit some of the many cafes and bars in Amsterdam (many are located around the Leidseplein and the Rembrandtplein) and interact with other tourists and locals. What better way to learn about the world and Amsterdam than by interacting with locals and other tourists.
The Nine streets (or 'De 9 Straatjes' in Dutch) – The area known as The 9 Streets is located between de Leidsestraat and the Raadhuisstraat and is named after the nine side streets that connect the main canals. These 9 picturesque shopping alleyways are a great place to hang out and is often referred to as Amsterdam's best shopping hub.
Shopping
The regular shopping hours in Amsterdam are as follows:
Monday: 13.00(=1pm) – 18.00(=6pm) (shops open later on Monday's)
Tuesday, Wednesday, Friday and Saturday: 09.00 – 18.00(=6pm)
Thursday: 09.00 – 21.00(=9pm)
Sunday: 12.00 – 17.00(=5pm) (mainly for stores at the Nieuwendijk and the Kalverstraat, in other shopping area's only a limited number of stores will be opened)
Some of the best area's: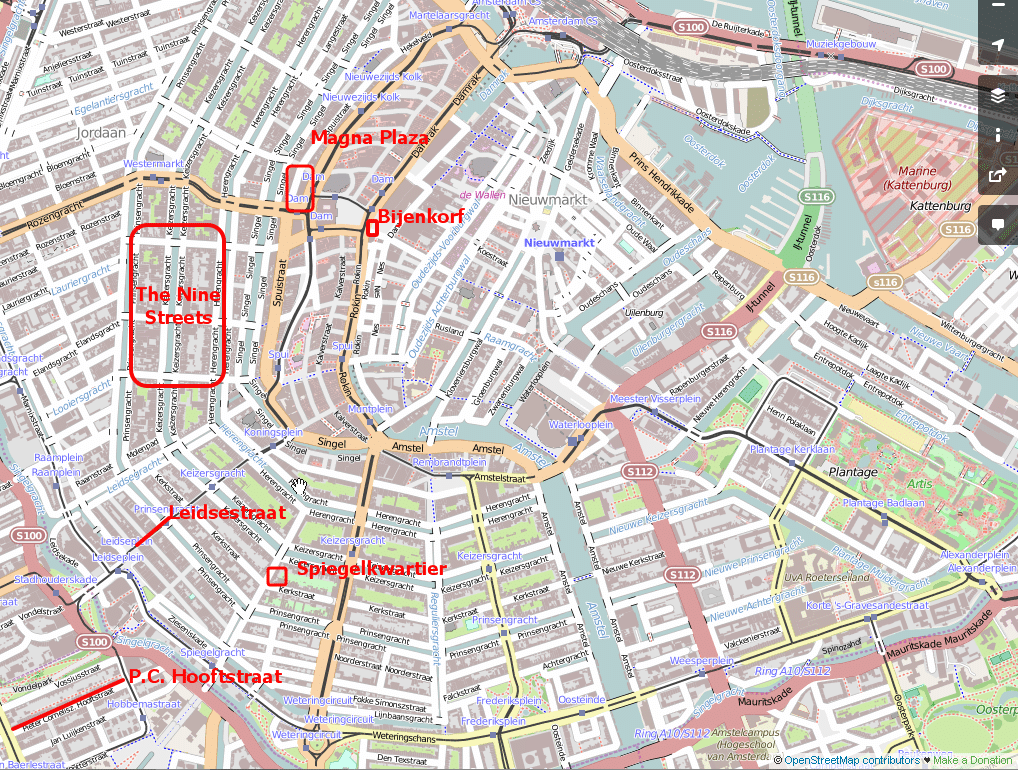 The Nine Streets (De Negen Straatjes) – Tourists can find the Negen Straatjes in the center of the city's historic canal district. These nine streets intersect between the Jordaan district and Leidsestraat where plenty of jewelry shops, boutiques, vintage stores and art galleries can be found.
P.C. Hooftstraat – P.C. Hooftstraat is Amsterdam's most exclusive shopping street where tourists can find high end designers like Chanel, DKNY, Louis Vuitton, Tommy Hilfiger, Mulberry and Ralph Lauren.
Department Stores – In Dam Square, shoppers will find De Bijenkorf. This is one of Amsterdam's most famous department stores. Just behind the Dam Square is Magna Plaza. If its impressive lineup of shops doesn't attract your attention, the stunning historic building that houses them will. Over on Kalverstraat is the Maison de Bonneterie, which is another upscale department store that features a wide range of different designers. The De Kalvertoren shopping center is just a short walk away and features more than 45 shops.
Leidsestraat – Leidsestraat offers a range of exclusive shops, including Karen Miller, Shoebaloo, Paul Warmer and Filippa K.
Spiegelkwartier – Spiegelkwartier features more than 70 different antique shops and galleries. Shoppers will find a stunning selection of paintings, jewelry, furniture, collectibles, ceramics and glass.
Architecture – Amsterdam Netherlands
Considered by many to be one of the foremost European cities for Architecture, Amsterdam has become known as a required destination for all lovers of architecture. A relatively small city, Amsterdam offers a literal master course in design over a small and manageable area. From modern design blending into historical facades, and the 17th century ring of canals; Amsterdam has it all.
One of the unique sights you can see is the old center, formed by a ring of canals which mostly contains the beautiful homes of the 17th century's wealthier residents. The preferred location for well-to-do merchants, doctors and lawyers, the old center is interesting not for the grand scale of the homes within. Because of the lack of space, and surplus of demand, homes had to be narrow to accommodate as many people as possible. Most of the homes in the area measure no more than 30ft across. As you can imagine, this meant very unique architectural elements to fully utilize the space. This included big narrow windows, narrow stairways and pulley systems to allow larger items to be moved to upper levels.
Dating back even further, in a city that has roots going back to medieval times, is the oldest recorded building in Amsterdam, the Oude Kerk. The Oude Kerk, or Old Church, lies at the heart of the Wallen district and was consecrated in 1306. Interestingly, this came almost 100 years after the church was founded in 1213. The Bishop of Utrecht finally consecrated the building with Saint Nicholas as its patron saint. The beauty and design of the Oude Kerk can't be understated; the Old Church was a favorite of legendary painter, Rembrandt; who had all of his children christened here. It is also said that the Estonian planks used in the construction of the Oude Kerk have given the church some of the best acoustics in all of Europe.
Amsterdam is no stranger to diverse styles, and by no means has it been opposed to dramatic changes in architectural design. In the 18th Century, French culture began having a heavier influence on the city, ushering in a new baroque style of design that bore out several different neo-styles. This includes neo-gothic, art nouveau art deco; all of which have continued to influence designers up to modern day.
With a history dating back to medieval times, Amsterdam boasts an incredibly rich history that is never more present than in its architecture. The designs laid throughout the canal-riddled city, are like so much strata; giving visitors a look into all of the periods that Amsterdam has experienced. Visiting Amsterdam, you can see that for an area that is so small geographically, their influence has been global.
Be sure to check out this section as well: Things to do in Amsterdam – the ultimate top 50!