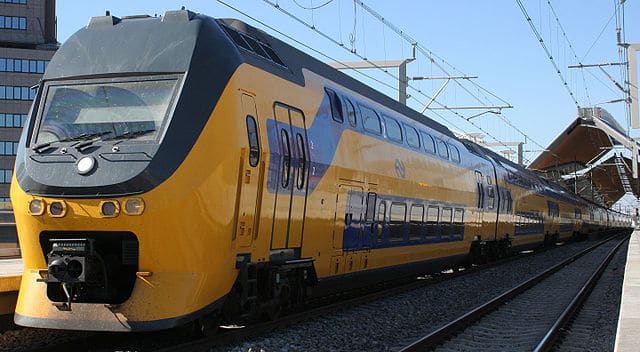 If you are traveling in the Netherlands, you are lucky. It sports one of the best, most modern, and most reliable public transportation systems in the world. The Netherlands prides itself in being innovative and modern in its transportation offerings. And of course, you will notice that most people use a bike to get around for at least part of their journey!
In order to get around, it is virtually a necessity to buy an OV Chipkaart. This is like a fast pass, or an electronic card that you swipe as you board and leave to pay for your fares. The OV Chipkaart comes in two types: personal or anonymous. To obtain a personal OV Chipkaart, there is an application process and you need to provide a photo. But the anonymous type can be purchased throughout the rail system at machines. To get started, you need to load your OV Chipkaart with about 40 Euros. Should you not have enough to pay for a fare, you could be fined triple the cost.  Here is a summary of transport options:
Trains:  In general, trains are used for longer rides, but there are trains, the express and local, that stop more locally. When you buy your ticket, you can choose between first and second class, although not all trains will allow you to make reservations for the kind of seat you want. The great thing about trains here is that all stations are located exactly where you would want to go; work, museums, restaurants etc. It is all planned out very meticulously.
Fast Trains: There are two of these in the Netherlands; the  Fyra and NS Hispeed. These travel from Rotterdam to the Amsterdam Airport, Schiphol or Amsterdam in about 40 minutes. These trains allow you to make reservations, so you do not have to stress about standing the whole time.
Night Trains: These run every hour of each night of the week. The route is between Rotterdam Central, The Hague Hollands Spoor, Leiden Central, Amsterdam Airport Schiphol, Amsterdam Central and Utrecht. To see a map of these routes, click here.
The Netherlands also has busses, trams and metros services. But for information about this, you have to look at the city you will be in.
Amsterdam:
If you are planning on visiting the Netherlands, you will not have a problem getting around. You will notice that most people ride their bike to the stations, or to their destination. The Netherlands is super easy to get around in whether you are there on business or pleasure.