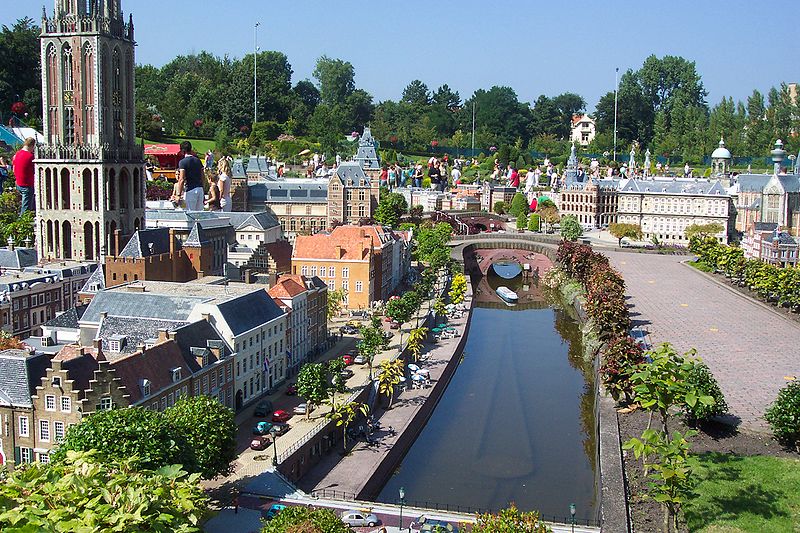 Madurodam is a miniature park and a major tourist attraction in The Hague, Netherlands. The park is located in the Scheveningen district of the city and features miniature 1:25 scale model replicas of the most famous Dutch castles, industrial projects and public buildings. Guests are treated to a trip through the history of the country and its famous buildings. Not only that, but they can also enjoy a hands-on experience while exploring the park.
Madurodam first opened its doors on July 2, 1952 and has seen more than 50 million visitors since that day. It was originally established as a monument to the resistance hero George Maduro. This miniature city receives more than half a million visitors each year. Revenue from the attraction is put towards the Madurodam Support Fund Society, which benefits children in need.
An Interactive Experience
The park features a number of hands-on experiences that help to make Madurodam more interactive and fun for visitors of all ages. Visitors can even load containers onto a cargo ship in the miniature port of Rotterdam, help a plane take off at Schiphol airport or prevent a great flood by operating the Oosterscheldekering storm surge barrier.
In addition to digital screens, users are also given a personal smartphone to use throughout the park. This device provides a media-rich experience that explains the story behind each object. There are three areas in the park and a playground for children. The three themed areas include:
· VindingRijk – 'The Netherlands as a source of inspiration.' This part of the park focuses on Dutch innovations, architecture, design and entertainment.
· WaterRijk – 'Water as friend and foe.'
· StedenRijk – Old town centers are the focus of this area of the park.
There is also a section of the park called Wereldkijker, which resembles a globe. Here, visitors can learn about the many accomplishments of the Dutch and what makes their small country so big. In addition, children can play in the themed playground called 'Wadden Sea.'
Park Information
In addition to the fun attractions found at Madurodam, visitors can also grab a bite to eat at the park's two restaurants: Taste of Holland and Panorama Café. There are also two shops on site where visitors can purchase souvenirs.
Madurodam is open year round and opens its doors at 9:00 AM. Tourists can easily access the park via car or public transportation from The Hague. The park closes at different times throughout the year, so be sure to visit the Madurodam website to find out more information on park hours.