Located in Lisse, Netherlands, Keukenhof is the world's largest flower garden. Its name translates to "Kitchen Garden" in English and is also known as the Garden of Europe. This popular attraction features more than 7 million flower bulbs, which are planted in the garden each year. Keukenhofencompasses 32 hectares of land.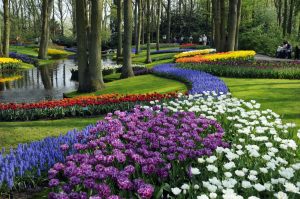 The garden's location was once used as hunting grounds during the 15th century. The area was also a great source for herbs, which were often used in the kitchen of Jacqueline, Countess of Hainaut's castle. It is for this reason that the garden earned the name Keukenhof. In 1949, the garden was officially established by the town's mayor. At the time, the goal of the garden was to help the Dutch export industry by creating an exhibit where both local and European flower growers could display their hybrids.
What to Expect
Although the garden is open for a short time, it is well worth planning your trip to coincide with this stunning event. This spectacular showcase of 7 million tulips, daffodil and hyacinths is truly a once in a lifetime experience.
Throughout Keukenhof, tourists will find a wide range of different gardens and styles. The English garden features charming winding paths, while the Historical Garden is enclosed and features a variety of different bulbs. Many areas of the park also include water gardens, fountains and ponds.
Visitor Information
Keukenhof is only open for a few short weeks each year. Typically, the garden opens in late March and closes in the latter part of May. During this time, Keukenhof is open daily from 8AM until 7:30PM, including public holidays.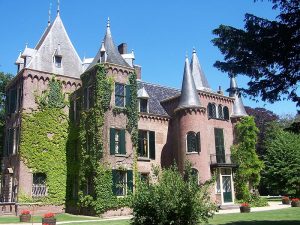 For hungry visitors, there are a few pavilions in the garden with self-service restaurants to accommodate your needs. Food offerings include smoke sausage sandwiches, waffles and Dutch herring.Several vendors are located throughout the garden as well. The pavilions include:
The Juliana Pavilion–The oldest pavilion in the park and also features an outdoor terrace where tourists can enjoy snacks and coffee.
The Wilhelmina Pavilion– Located directly on the pond and one of the most picturesque pavilions in the garden. Here, guests can dine on authentic Dutch dishes and enjoy a warm atmosphere.
The Small Pancake Pavilion–This pavilion is located next to the playground and serves up delectable mini pancakes.
The Tea Pavilion–Serves a range of teas and snacks. Beautiful views of the flower fields can be seen from this pavilion.
Getting There
Keukenhof is situated in the South Holland province in the town of Lisse, which is just south of Haarlem and Amsterdam. This region is known as the Dune and Bulb region, or Duin- en Bollenstreek. Tourists can easily reach the garden via bus or from the train stations in Leiden, Schiphol or Haarlem.
Some great pictures